Race Talk:

Zurella favourite for Oaks

Comment | Author: glenn watson | Mar 14, 2012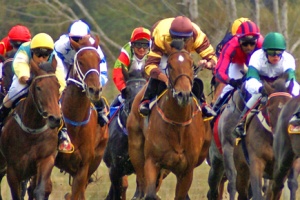 In the absence of Derby winner Silent Achiever, Saturday's $300,000 NZ Oaks at Trentham has drawn the best fillies in the land.
Lowland winner Planet Rock, with Kiwi expat Damian Browne aboard, is second favourite at $4.60 with Zurella holding down favouritism at $4.40.
Derby fourth placegetter Chicharita is third fav at $5 while James McDonald's ride Splitsecond is offering $9.
Final Touch, coming off a resounding win at Wingatui last Saturday, is sure to attract plenty of punter attention in the Gr3 Cuddle Stakes.
Feature races
CUDDLE STAKES
1 15601 Final Touch (10) J & K Parsons Buddy Lammas 56 (R102) C(2-0-0) Dst(6-2-0)
2 63906 Dating (5) G & D Rogerson James McDonald 56 (R96) C(4-1-1) Dst(4-1-1)
3 12x42 No Excuse Maggie (6) John Bary Sam Spratt 55.5 (R95) C(1-0-1) Dst(10-3-4)
4 82414 LAmour (11) Lisa Latta - 55 (R90) C(7-2-3) Dst(8-1-3)
5 56102. Shylo (4) Lionel Greig Johnathon Parkes 55 (R88) C(5-2-0) Dst(8-2-0)
6 22111 Viadana (3) Lance Noble - 55 (R88) C(1-1-0) Dst(5-3-2)
7 34054 Floria (7) Stephen McKee - 55 (R85) C(1-0-0) Dst(5-0-2)
8 48112. Outback Girl (8) Frank Brown Rosie Myers (a) 55 (R85) C(2-0-1) Dst(4-0-2)
9 6x211 OFille (1) Wayne Marshment Noel Harris 55 (R81) C(1-1-0) Dst(0)
10 66215 Celebration (9) Karen Zimmerman Darryl Bradley 55 (R78) C(2-0-0) Dst(9-2-2)
11 48401 Abeautifulred (2) G & D Rogerson Rory Hutchings (a) 53 (R82) C(1-0-0) Dst(5-1-1)
NZ OAKS $300000 2400m
1 11441 Planet Rock (3) P & D Williams Damian Browne 56.5 (R96) C(2-0-2) Dst(0)
2 44351 Artistic (2) Shaune Ritchie - 56.5 (R90) C(1-0-1) Dst(0)
3 33222 Capital Diamond (1) Lisa Latta - 56.5 (R90) C(1-0-1) Dst(0)
4 11515 Zurella (9) Shaune Ritchie - 56.5 (R90) C(0) Dst(1-0-0)
5 21133 Quintessential (16) John Sargent Lisa Allpress 56.5 (R88) C(1-1-0) Dst(0)
6 31164 Chicharita (11) Moroney/Clarken - 56.5 (R85) C(0) Dst(1-0-0)
7 12732 Joys Choice (6) G & D Rogerson Leith Innes 56.5 (R85) C(0) Dst(0)
8 41523 Splitsecond (7) Roger James James McDonald 56.5 (R80) C(0) Dst(0)
9 32153 Poste Restante (15) Howie Mathews Hayden Tinsley 56.5 (R75) C(3-1-1) Dst(0)
10 63124 Savasong (5) G & D Rogerson Rory Hutchings (a) 56.5 (R70) C(0) Dst(0)
11 48105. Melody Celebre (14) Louise Saunders - 56.5 (R68) C(0) Dst(0)
12 42173 Tilda (8) McVean/Browne Rosie Myers (a) 56.5 (R64) C(0) Dst(0)
13 30371 Asavant (17) J & K Parsons Noel Harris 56.5 (R63) C(2-0-1) Dst(0)
14 31928 Jungle Pago (4) Fraser Auret Johnathon Parkes 56.5 (R63) C(0) Dst(0)
15 28414 Lady Platinum (13) Lisa Latta - 56.5 (R63) C(0) Dst(0)
16 76144 Manhattan Mam (12) Richard Collett Sam Spratt 56.5 (R63) C(0) Dst(0)
17 41582 Myminkcoat (10) Gary Vile - 56.5 (R63) C(0) Dst(0)
Saturday - 18th May
Sat, May 18, 2013

Friday - 17th May
Sat, May 18, 2013

Wednesday - 15th May
Wed, May 15, 2013

Tuesday - 14th May
Tue, May 14, 2013

Saturday - 11th May
Sat, May 11, 2013