Race Talk:

Diamond demotion for McDonald

Comment | Author: glenn watson | Mar 10, 2012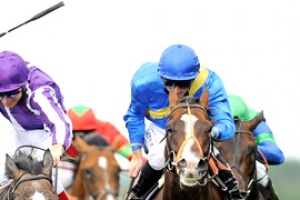 TRACKMAN
Sensation in the group 1 Haunui Diamond Stakes at Ellerslie today.
Rollout The Carpet and James McDonald won the race but were demoted for severely checking the runnerup, favourite Warhorse, and fifth-placed Travino 300m out after being spooked by some birds in the middle of the track.
The thumbs down from McDonald as he weighed in said it all, Warhorse winning the race in the protest room
The result may have scarred McDonald's huge Cup Week, where he won the Derby and Auckland Cup, but it sent Warhorse's rider Opie Bosson back to Singapore a happy man.
Rollout The Carpet was demoted to second with Silk Pins third.
Earlier McDonald was out of the placings in the Mr Tiz Trophy on well backed filly Xanadu, who needs more than 1200m.
The race was won by Burgundy off a three wide run, mastering a defiant St Yazin near the line, with Antonio Lombardo a plucky third from a wide gate.
"I think he willl make an excellent miler," said trainer Jason Bridgman of Burgundy. "He had to tough it out today and he found plenty."
Burgundy, a million dollar buy, is part owned by Wanganui businessman Harvey Green, who also has a share in Rock N Pop, second in the Derby a week earlier.
Roughies ruled the roost earlier in the day with Zankuro and Carlotta springing ambushes in the third and fourth.
Trainer Don Sellwood, who recently retired his fine mare Anabandana to stud, was immensely satisfied with the effort of Zankuro, who was at $15.
Friday - 17th May
Sat, May 18, 2013

Wednesday - 15th May
Wed, May 15, 2013

Tuesday - 14th May
Tue, May 14, 2013

Saturday - 11th May
Sat, May 11, 2013

Friday - 10th May
Fri, May 10, 2013